I am forced to take down my 210g (7x2x2) aggressive tank due to problems dealing with such a large system (humidity etc) and the transmission just went on my car. All fish have been sold. Here is what I have.
210g 7x2x2 tank with custom stand and trim ring (around top of tank) euro braced. Has holes on the bottom from previous owners canister filters, I patched them up with the glass piece/silicone gasket method, works perfect. $400
Octopus NW200 skimmer either with or without Gate Valve mod $125
Tek 6x54w 48" T5 fixture with individual reflectors, needs new bulbs $225
Nova extreme 4x39 36" T5 fixture with moon lights, could use new bulbs $125
Live rock I have over 200lbs for $400, or (2) 100lbs for $250, or (4) 50lbs for $150. Rock will be evenly divided up, a lot of good pieces, some rubble etc.
Also considering selling my prize collection of liverock, gorgeous pieces, most of them big long flat pieces, perfect for aquascaping! Over 50lbs $200
Here is a picture of the tank when first setup, there has been more rock added and some in the sump as well. Just to give everyone an idea.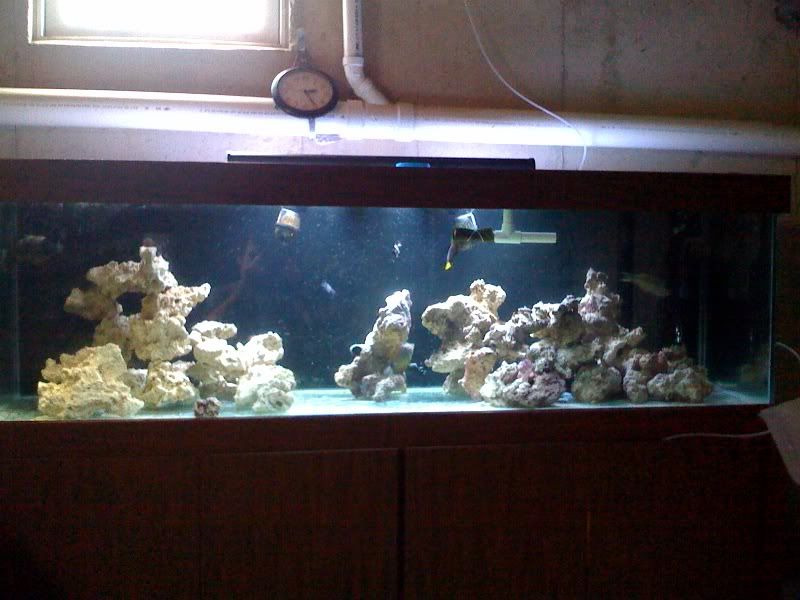 Pickup only (for now) in Hockessin, DE 19707. Please email me at Hockey9885@aol.com if seriously interested! Everything needs to go quickly as possible, thank you